I'd like to share with you a little mystery that I've been trying to solve recently.  Late one evening in early May 1822, a group of four men gathered on a Charleston street, under the cover of some overhanging tree branches, to discuss a secret plan.  Three of the group, Frank, Monday, and Jack, were enslaved men of African descent, while the fourth, Denmark Vesey, was known as a "free negro."  According to testimony given later in the summer of 1822, their nocturnal meeting took place "under Mr. Duncan's trees," a place where these men apparently felt confident that their rebellious conversation would not be overheard.  Within a matter of weeks, however, authorities in Charleston had uncovered their plot to foment a murderous uprising against the city's white population, and each of four men who met under Mr. Duncan's trees was among dozens who were arrested and tried.  The Denmark Vesey affair of 1822 was definitely one of the most important episodes in the history of Charleston, and numerous historians have collectively devoted thousands of pages of scholarly ink to examining the details of the evidence presented at the trial of Vesey and his alleged confederates.  Rather than attempting to summarize that mountain of work, I'd like to focus today's conversation on one small, contextual detail of this sprawling story:  where, in the Charleston of 1822, would one find "Mr. Duncan's trees," and where is that site in Charleston today?
In mid-June 1822, when the news spread throughout Charleston that authorities had detected plans for a violent mass uprising of enslaved people, every white slave owner in the city began to wonder if their own people might be involved.  Planter James Ferguson learned from a neighbor that a man named Frank, who belonged to the Ferguson family estate, might have some knowledge of the plot.  After interrogating Frank himself, Ferguson then dragged the enslaved man before the authorities for further questioning.  In his testimony before the tribunal of white magistrates and freeholders, Frank said he had first learned of the alleged plot on the first day of May, while visiting Denmark Vesey's house in Bull Street.  A few days later, said Frank, he "met Vesey, Monday [Gell], and [Gullah] Jack in the street under Mr. Duncan's trees at night."
Frank's testimony includes a host of other details about the alleged uprising planned for June of 1822, but let's focus for the moment on the available evidence for establishing the location of "Mr. Duncan's trees."  First, I turned to the Directory and Stranger's Guide for the City of Charleston . . . for the Year 1822, which includes people residing both within the city limit, south of Boundary (Calhoun) Street, and those living on "the Neck" north of the city limit.  In this directory, we find four men with the surname Duncan—three in the city and one on the Neck—and so we begin to search for clues to help narrow down the field of candidates.
One such clue is Frank's statement that his meeting with Denmark, Monday, and Jack took place "at night."  This vague temporal phrase might seem relatively insignificant, but in Charleston of 1822 it merits attention.  From the beginning of the colonial town of Charleston to the last days of the Civil War, city authorities enforced a nightly curfew designed to keep enslaved people and free people of color off the streets after sunset.  Each night the City Guard patrolled the streets looking specifically for any persons of African descent who might violate the curfew.  With this fact in mind, I think we can eliminate two of the four Duncans listed in the 1822 city directory:  Samuel Duncan was the proprietor of a "porter house" (a type of restaurant) on busy East Bay Street, while B. F. Dunkin was a lawyer living in Meeting Street near the main Guard House.  Both of these locations would have been far too conspicuous for a nocturnal sidewalk gathering of enslaved men plotting rebellion.  In either location, the city's paramilitary guard would have been quite figuratively breathing down their necks.
I'd like to pause here for a moment to note that I didn't mention an exact street address for Samuel Duncan and B. F. Dunkin because the numbering of houses in 1822 Charleston has no relation whatsoever to the house numbers of modern Charleston.  Between the 1780s and the 1880s, Charleston's street addresses were renumbered multiple times, with varying degrees of logic and precision.  The process of translating a historic number, like 69 Meeting Street from 1822, into a modern street address, takes a lot of research and often yields unexpected results.  For the present purposes, such exactness is not really necessary. But I digress. . . .
Having eliminated two of the four Duncan men listed in Charleston's 1822 directory, we turn to the remaining candidates: John Duncan, residing in Bull Street, and Patrick Duncan, on the Neck.  At first glance, one might be tempted to select John Duncan as our man because he lived within the city limits, while Patrick Duncan's house was, technically speaking, out of town.  This choice might be further bolstered by the fact that Denmark Vesey himself lived on Bull Street, in some unknown proximity to John Duncan.  The existence of other evidence complicates the matter, however, so I believe we have to dig deeper to identify the man associated with "Mr. Duncan's trees" in 1822.
The first complicating factor is the wealth of both John Duncan and Patrick Duncan.  Each of these men was sufficiently wealthy to speculate in real estate, and each owned multiple properties where they did not reside, both within the city and beyond.  John Duncan may have lived and slept at a house on Bull Street, at or near the northwest corner of Pitt Street, for example, but he was a merchant who owned rental tenements and a significant tract of property on the Neck.  In fact, in 1823 John Duncan advertised his desire to sell a subdivision of mostly vacant lots bounded by Boundary (Calhoun), Coming, Pitt, and Vanderhorst Streets.  In subsequent years this land was built up and a new street—Duncan Street—carved through its center.  In 1822, this property was low, perhaps even swampy, however, and had been totally cleared during the American Revolution.  We don't know if there were any remarkable trees on John Duncan's land on the north side of Boundary Street in 1822, but the site doesn't sound like a place one might choose to identify as "Mr. Duncan's trees."
Similarly, Neck resident Patrick Duncan owned a number of rental properties within the city limits of Charleston.  As a director of the Planters' and Mechanics' Bank, he likely worked in an office on Broad Street with the rest of the city's most influential men.  The phrase "Mr. Duncan's trees" seems to imply an arbor closely associated with the man, however, not a cluster of trees on the rental property of an absentee landlord.  This point might tip the scales in favor of John Duncan, who, after all, lived on the same street as Denmark Vesey, but for one very interesting fact:  Patrick Duncan's grand residence on the Neck was known in its day, as it is today, for its ornamental trees and landscaping.
Patrick Duncan was a native of Scotland who emigrated to Charleston shortly after the American Revolution.  He may have come from relatively modest means, but by the end of his life he was quite a wealthy man. Despite this accumulation of wealth, his life is an enigma.  He was described as a tallow chandler in 1798 when he purchased a two-acre tract on the Neck, on the east side of Pinckney Street (now Rutledge Avenue), just a short distance north of Boundary (Calhoun Street).  The site abutted the northernmost waters of Cannon's Creek, around which a number of butchers had erected slaughterhouses.  In the early years of the nineteenth century this neighborhood was commonly called "Butcher Town," which suited Patrick Duncan's business perfectly.  Purchasing leftover animal fat from the slaughterhouses, Duncan transformed the waste into candles and soap in a factory he built on the water's edge.  Meanwhile, he purchased an adjacent lot and turned the remainder of his multi-acre lot into an urban garden replete with flowers, shrubbery, and fruit and ornamental trees.  By 1816, Patrick Duncan was elected a director of the Planters' and Mechanics' Bank of Charleston, and around that same time he built a magnificent Classical-revival house on the northern edge of his industrial site.
Despite his economic success, the name Patrick Duncan is missing from membership lists of the elite clubs and societies of early-nineteenth-century Charleston.  At least one obscure source, however, written by a stranger to Charleston, tells us that Duncan was a refined, hospitable man of culture.  In late April of 1819—just three years before the summer of Denmark Vesey—a visiting Englishman named William Faux called on the aging Patrick Duncan and recorded the following brief but useful anecdote:
Sunday, [April] 25th [1819]–Conducted by Mr. [William] Bird to the seat of Patrick Duncan, Esq., a Scotsman, who emigrated 36 years since [ca. 1783], and is now the head of a bank in this city. He is a rich, knowing old gentleman, living in the garden of the choicest flowers and fruits, breaking down the trees with their weight.
Now that we've identified several potential sites, let's return to the main question of the day—the location of a secret nocturnal meeting of Denmark Vesey and his confederates "under Mr. Duncan's trees."  Did this meeting take place on the east side of Pinckney Street (now Rutledge Avenue), under a canopy of branches from the trees in Patrick Duncan's elaborate garden?  Or did it take place at or near the northwest corner of Bull and Pitt Streets, under the shade of trees belonging to John Duncan?  Although the exact address of Denmark Vesey's home in Bull Street is unknown, he definitely lived in some proximity to John Duncan.  Logic would suggest that Vesey probably met his co-conspirators at the site closest to his own residence, but I'm not 100% comfortable with that conclusion.  Why not?  Because of the late hour of their meeting.
Frank Ferguson testified in 1822 that the meeting in question took place in early May "at night."  In that era, the police force of the City of Charleston was essentially a paramilitary night watch that went on duty at sunset, after a musical tattoo and the ringing of St. Michael's bells signaled the beginning of a curfew for all non-white people.  Bull Street, the address of both Denmark Vesey and John Duncan, was well within the city limits, and thus subject to the regular patrol of the armed City Guards walking their beats.  Holding a secret meeting near the corner of Bull and Pitt Streets, after curfew, would have been a dangerous, even reckless move for these four "black" men.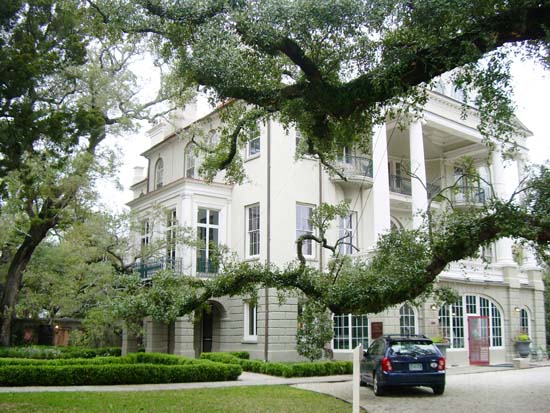 Meanwhile, less than half a mile north of Bull Street, the street abutting Patrick Duncan's elaborate garden was outside the jurisdiction of the city and exempt from the patrols of the City Guard.  The only semblance of a police force on the Neck in 1822 was the irregular voluntary patrols of mounted white men who were obliged to ride through their neighborhoods at least once in a fortnight, and even that duty was not strictly performed.  I believe it's possible that Vesey, Monday, Jack, and Frank may have elected to gather under the cover of darkness, just outside the range of the City Guard, to discuss their plans for a bloody uprising.
In short, there are two possible locations for the 1822 meeting "under Mr. Duncan's Trees at night."  The determination of which location is correct might hinge on the answer to the following question:  Which of the following two risks did Vesey and his men choose: the risk of being seen and heard by the City Guard while standing near the northwest corner of Bull and Pitt Streets after curfew, or the risk of being detected by the Guard while walking after curfew to and from a meeting near Patrick Duncan's garden on Pinckney Street (Rutledge Avenue)?  Perhaps we'll never know the answer for certain, but any historian contemplating the story of the Demark Vesey affair of 1822 needs to have the facts at their disposal.
Before we close this chapter, I'd like to tie up a few loose ends as a sort of coda for today's story.
First, what happened to the four men who met under Mr. Duncan's trees in May 1822?  After being interrogated and tried by an ad-hoc court of white magistrates, Denmark Vesey and Gullah Jack Pritchard were hanged.  In exchange for their testimony about the plot, Frank Ferguson and Monday Gell were spared the noose, but they were banished from the state of South Carolina forever.
Second, what became of the Patrick Duncan's elaborate mansion and garden on Pinckney Street?  In 1829 Duncan conveyed the property to his long-time domestic partner, a lawyer named James Nicholson, who left it in his will to Patrick Duncan.  After both men died in the 1830s, the property changed hands several times until Mary McBee purchased it and transformed into the headquarters of a girls' school called Ashley Hall in 1909.  Although it's commonly called the McBee House today, it was listed on the National Register of Historic Places in 1974 as the James Nicholson House.  Back in the day of Frank Ferguson, however, he would have known it as Patrick Duncan's house, and perhaps as the site of "Mr. Duncan's trees."
NEXT: Governor's Bridge and the Sinkhole of 2017
PREVIOUSLY: The Tornado of 1811
See more from Charleston Time Machine