Menu
(Temporary) Cooper River Memorial Library
9 a.m. - 5 p.m.
John L. Dart Library
9 a.m. - 6 p.m.
Wando Mount Pleasant Library
9 a.m. - 6 p.m.
St. Paul's/Hollywood Library
9 a.m. - 5 p.m.
Otranto Road Library
9 a.m. - 6 p.m.
McClellanville Library
9 a.m. - 1 p.m.
John's Island Library
9 a.m. - 6 p.m.
Hurd/St. Andrews Library
9 a.m. - 6 p.m.
Edisto Library
9 a.m. - 3 p.m.
Baxter-Patrick James Island
9 a.m. - 6 p.m.
Main Library
9 a.m. - 6 p.m.
Bees Ferry West Ashley Library
9 a.m. - 6 p.m.
Dorchester Road Library
Closed
West Ashley Library
9 a.m. - 6 p.m.
Folly Beach Library
1 p.m. - 5 p.m.
Mt. Pleasant Library
Closed
Village Library
9 a.m. - 5 p.m. (Curbside)
Edgar Allan Poe/Sullivan's Island Library
9 a.m. - 1 p.m.
Veterans Day Picks: 16 reads to honor our veterans
Item request has been placed!
×
Item request cannot be made.
×
Processing Request
CHARLESTON, S.C. - It's November, and Veterans Day is coming up soon! There are a lot of current and former active duty personnel living in the Lowcountry, and Charleston has a long military history, from the Revolutionary War, the Civil War, the World Wars, Vietnam, and into Afghanistan. 
For generations, our troops have ensured that all Americans are safe from threats foreign and domestic. In that spirit, we've compiled a list of 16 books that honor veterans. We've broken up the reads by age group, and we have something for kids, teens, and adults.
Books for Children
Rolling Thunder by Kate Messner (recommended by Kate Dentzman, Wando Mount Pleasant)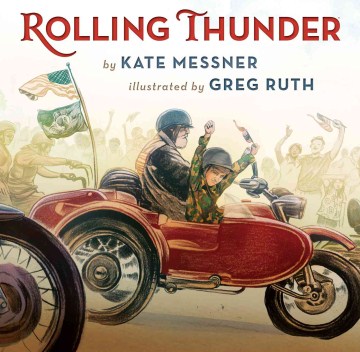 Every Memorial Day in Washington, DC, more than a million veterans and their supporters gather for the Rolling Thunder® Ride for Freedom, a demonstration that pays tribute to the men and women of the US armed forces. This lyrical story honors the bravery and sacrifice of those American heroes -- the ones who have returned home, and the ones who haven't.
A dog like Daisy Kristin O'Donnell Tubb (recommended by Kate Dentzman, Wando Mount Pleasant)

Daisy has only ten weeks to prove her usefulness or else be sent back to the pound. Yet if she goes back, who will protect Colonel Victor from his PTSD attacks? Or save the littler human, Micah, from those infernal ear muzzles he calls earphones? What if no one ever adopts her again? Determined to become the elite protector the colonel needs, Daisy vows to ace the service dog test. She'll accept the ridiculous leash and learn to sit, heel, shake, even do your business, Daisy when told to. But Daisy must first learn how to face her own fears from the past or risk losing the family she's so desperate to guard--again.
Half a man Michael Morpurgo (recommended by Kate Dentzman, Wando Mount Pleasant)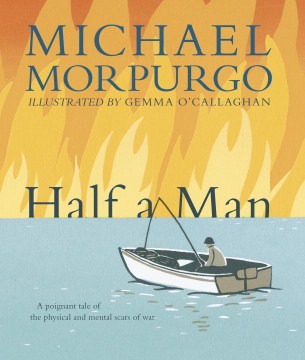 Revered author Michael Morpurgo remembers the post-war Britain of his childhood in this unflinching and deeply poignant tale of the physical and mental scars of war.
From a young age, Michael was both fascinated by and afraid of his grandfather. Grandpa's ship was torpedoed during the Second World War, leaving him with terrible burns. Every time he came to stay, Michael was warned by his mother that he must not stare, he must not make too much noise, he must not ask Grandpa any questions about his past. As he grows older, Michael stays with his grandfather during the summer holidays, and as he finally learns the story behind Grandpa's injuries, he gets to know the real man behind the solemn figure from his childhood. Michael can see beyond the burns, and this gives him the power to begin healing some of the scars that have divided his family for so long.
The unsung hero of Birdsong, USA by Brenda Woods (recommended by Kate Dentzman, Wando Mount Pleasant)

On Gabriel's twelfth birthday, he gets a new bike–and is so excited that he accidentally rides it right into the path of a car. Fortunately, a Black man named Meriwether pushes him out of the way just in time, and fixes his damaged bike. As a thank you, Gabriel gets him a job at his dad's auto shop. Gabriel's dad hires him with some hesitation, however, anticipating trouble with the other mechanic, who makes no secret of his racist opinions.
Gabriel and Meriwether become friends, and Gabriel learns that Meriwether drove a tank in the Army's all-Black 761st Tank Battalion in WWII. Meriwether is proud of his service, but has to keep it a secret because talking about it could be dangerous. Sadly, danger finds Meriwether, anyway, when his family receives a frightening threat. The South being the way it is, there's no guarantee that the police will help–and Gabriel doesn't know what will happen if Meriwether feels forced to take the law into his own hands.
Remembering Vera by Patricia Polacco (recommended by Linda Rumph, Wando Mount Pleasant)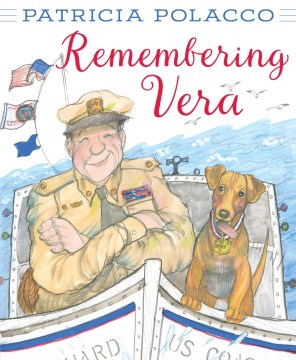 In 1962 a stray dog was found under a pile of boxes in a Coast Guard warehouse in what used to be called Government Island, the Coast Guard Base in San Francisco Bay, when a seaman named Dave Bunch was mopping the floor. It was love at first sight. At first the men decided to hide the pup from the Commander, thinking she wouldn't be allowed. But soon enough all of the men in the barracks fell hard for the little dog. Then one day when high waves challenged another vessel at sea, it was Vera's fierce determination and natural swimming ability that brought the life preserver and safety line to the sinking boat. Vera became a hero and the beloved pet and mascot of the San Francisco Coast Guard.
Books for Young Adults
Dive!: World War II Stories of Sailors & Submarines in the Pacific by Deborah Hopkinson (recommended by Jenn Scott, Mt. Pleasant)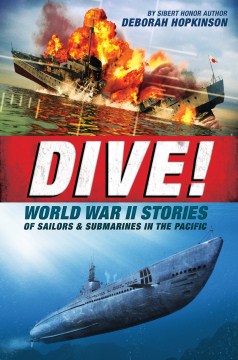 Following the attack on Pearl Harbor, the US entered World War II in December 1941 with only 44 Naval submarines -- many of them dating from the 1920s. With the Pacific battleship fleet decimated after Pearl Harbor, it was up to the feisty and heroic sailors aboard the US submarines to stop the Japanese invasion across the Pacific.
Including breakouts highlighting submarine life and unsung African-American and female war heroes, award-winning author Deborah Hopkinson uses first-person accounts, archival materials, official Naval documents, and photographs to bring the voices and exploits of these brave service members to life.
Mare's War by Tanita Davis (recommended by Andria Amaral, Main)

Octavia and Tali are dreading the road trip their parents are forcing them to take with their grandmother over the summer. After all, Mare isn't your typical grandmother. She drives a red sports car, wears stiletto shoes, flippy wigs, and push-up bras, and insists that she's too young to be called Grandma. But somewhere on the road, Octavia and Tali discover there's more to Mare than what you see. She was once a willful teenager who escaped her less-than-perfect life in the deep South and lied about her age to join the African American battalion of the Women's Army Corps during World War II.
Told in alternating chapters, half of which follow Mare through her experiences as a WAC member and half of which follow Mare and her granddaughters on the road in the present day, this novel introduces a larger-than-life character who will stay with readers long after they finish reading.
Flygirl by Sherri Smith (recommended by Andria Amaral, Main)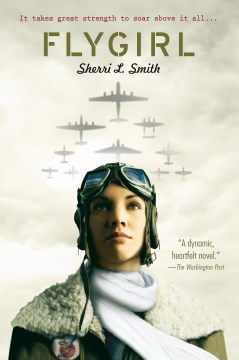 Ida Mae Jones dreams of flight. Her daddy was a pilot and being black didn't stop him from fulfilling his dreams. But her daddy's gone now, and being a woman, and being black, are two strikes against her. When America enters the war with Germany and Japan, the Army creates the WASP, the Women Airforce Service Pilots—and Ida suddenly sees a way to fly as well as do something significant to help her brother stationed in the Pacific. But even the WASP won't accept her as a black woman, forcing Ida Mae to make a difficult choice of "passing," of pretending to be white to be accepted into the program. Hiding one's racial heritage, denying one's family, denying one's self is a heavy burden. And while Ida Mae chases her dream, she must also decide who it is she really wants to be.
The Lovely War by Julie Berry (recommended by Andria Amaral, Main)

It's 1917, and World War I is at its zenith when Hazel and James first catch sight of each other at a London party. She's a shy and talented pianist; he's a newly minted soldier with dreams of becoming an architect. When they fall in love, it's immediate and deep—and cut short when James is shipped off to the killing fields.
Aubrey Edwards is also headed toward the trenches. A gifted musician who's played Carnegie Hall, he's a member of the 15th New York Infantry, an all-African-American regiment being sent to Europe to help end the Great War. Love is the last thing on his mind. But that's before he meets Colette Fournier, a Belgian chanteuse who's already survived unspeakable tragedy at the hands of the Germans.
Sunrise Over Fallujah by Walter Dean Myers (recommended by Andria Amaral, Main)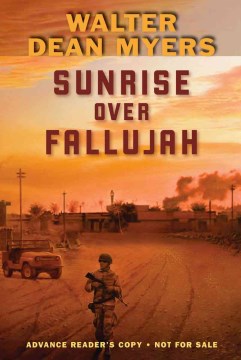 Operation Iraqi Freedom, that's the code name. But the young men and women in the military's Civil Affairs Battalion have a simpler name for it: WAR.
In this new novel, Walter Dean Myers looks at a contemporary war with the same power and searing insight he brought to the Vietnam war of his classic, FALLEN ANGELS. He creates memorable characters like the book's narrator, Birdy, a young recruit from Harlem who's questioning why he even enlisted; Marla, a blond, tough-talking, wisecracking gunner; Jonesy, a guitar-playing bluesman who just wants to make it back to Georgia and open a club.
Standing Up Against Hate: How Black Women in the Army Helped Change the Course of WWII by Mary Cronk Farrell  (recommended by Andria Amaral, Main)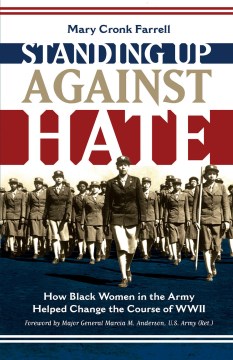 Standing Up Against Hate tells the stories of the African American women who enlisted in the newly formed Women's Army Auxiliary Corps (WAAC) in World War II. They quickly discovered that they faced as many obstacles in the armed forces as they did in everyday life. However, they refused to back down. They interrupted careers and left family, friends, and loved ones to venture into unknown and sometimes dangerous territory. They survived racial prejudice and discrimination with dignity, succeeded in jobs women had never worked before, and made crucial contributions to the military war effort. The book centers around Charity Adams, who commanded the only black WAAC battalion sent overseas and became the highest ranking African American woman in the military by the end of the war. Along with Adams's story are those of other black women who played a crucial role in integrating the armed forces. Their tales are both inspiring and heart-wrenching.
Pure Grit: How American World War II Nurses Survived Battle and Prison Camp in the Pacific (recommended by Andria Amaral, Main)

When the Japanese attack on Pearl Harbor in 1941 blasted the United States into World War II, 101 American Army and Navy nurses serving in the Philippines were suddenly treating wounded and dying soldiers while bombs exploded all around them. The women served in jerry-rigged jungle hospitals on the Bataan Peninsula and in underground tunnels on Corregidor Island. Later, when most of them were captured by the Japanese as prisoners of war, they suffered disease and near-starvation for three years. This is their story of sisterhood and suffering, of tragedy and betrayal, of death and life.
Books for Adults 
The Last Stand of the Tin Can Sailors by James D. Hornfischer (recommended by Jenn Scott, Mt. Pleasant)

"This will be a fight against overwhelming odds from which survival cannot be expected. We will do what damage we can."
With these words, Lieutenant Commander Robert W. Copeland addressed the crew of the destroyer escort USS Samuel B. Roberts on the morning of October 25, 1944, off the Philippine Island of Samar. On the horizon loomed the mightiest ships of the Japanese navy, a massive fleet that represented the last hope of a staggering empire. All that stood between it and Douglas MacArthur' s vulnerable invasion force were the Roberts and the other small ships of a tiny American flotilla poised to charge into history.
In the tradition of the #1 New York Times bestseller Flags of Our Fathers, James D. Hornfischer paints an unprecedented portrait of the Battle of Samar, a naval engagement unlike any other in U.S. history—and captures with unforgettable intensity the men, the strategies, and the sacrifices that turned certain defeat into a legendary victory.
The Good Soldiers by David Finkel (recommended by Kate Hudson, Main)

It was the last-chance moment of the war. In January 2007, President George W. Bush announced a new strategy for Iraq. He called it the surge. "Many listening tonight will ask why this effort will succeed when previous operations to secure Baghdad did not. Well, here are the differences," he told a skeptical nation. Among those listening were the young, optimistic army infantry soldiers of the 2-16, the battalion nicknamed the Rangers. About to head to a vicious area of Baghdad, they decided the difference would be them.
Fifteen months later, the soldiers returned home forever changed. Pulitzer Prize-winning Washington Post reporter David Finkel was with them in Bagdad, and almost every grueling step of the way.
What was the true story of the surge? And was it really a success? Those are the questions he grapples with in his remarkable report from the front lines. Combining the action of Mark Bowden's Black Hawk Down with the literary brio of Tim O'Brien's The Things They Carried, The Good Soldiers is an unforgettable work of reportage. And in telling the story of these good soldiers, the heroes and the ruined, David Finkel has also produced an eternal tale—not just of the Iraq War, but of all wars, for all time.
Thank You for Your Service by David Finkel (recommended by Kate Hudson, Main)

The wars of the past decade have been covered by brave and talented reporters, but none has reckoned with the psychology of these wars as intimately as the Pulitzer Prize-winning journalist David Finkel. For The Good Soldiers, his bestselling account from the front lines of Baghdad, Finkel embedded with the men of the 2-16 Infantry Battalion during the infamous "surge," a grueling fifteen-month tour that changed them all forever. In Finkel's hands, readers can feel what these young men were experiencing, and his harrowing story instantly became a classic in the literature of modern war.
In Thank You for Your Service, Finkel has done something even more extraordinary. Once again, he has embedded with some of the men of the 2-16―but this time he has done it at home, here in the States, after their deployments have ended. He is with them in their most intimate, painful, and hopeful moments as they try to recover, and in doing so, he creates an indelible, essential portrait of what life after war is like―not just for these soldiers, but for their wives, widows, children, and friends, and for the professionals who are truly trying, and to a great degree failing, to undo the damage that has been done.
The story Finkel tells is mesmerizing, impossible to put down. With his unparalleled ability to report a story, he climbs into the hearts and minds of those he writes about. Thank You for Your Service is an act of understanding, and it offers a more complete picture than we have ever had of these two essential questions: When we ask young men and women to go to war, what are we asking of them? And when they return, what are we thanking them for?
When Books Went to War by Molly Guptill Manning (recommended by Theresa Wagner, John's Island)

When America entered World War II in 1941, we faced an enemy that had banned and burned 100 million books. Outraged librarians launched a campaign to send free books to American troops and gathered 20 million hardcover donations. In 1943, the War Department and the publishing industry stepped in with an extraordinary program: 120 million small, lightweight paperbacks for troops to carry in their pockets and rucksacks in every theater of war. These Armed Services Editions were beloved by the troops and are still fondly remembered today. Soldiers read them while waiting to land at Normandy, in hellish trenches in the midst of battles in the Pacific, in field hospitals, and on long bombing flights. They helped rescue The Great Gatsby from obscurity and made Betty Smith, author of A Tree Grows in Brooklyn, into a national icon. When Books Went to War is the inspiring story of the Armed Services Editions, and a treasure for history buffs and book lovers alike.