Menu
Main Library
Closed (Bridge Run Closure)
Keith Summey North Charleston Library
Closed (Opening)
Bees Ferry West Ashley Library
9 a.m. - 5 p.m.
Baxter-Patrick James Island
9 a.m. - 5 p.m.
Wando Mount Pleasant Library
9 a.m. - 5 p.m.
West Ashley Library
Closed for renovations
(Temporary) Cooper River Memorial Library
Closed (Branch closed for renovations.)
John L. Dart Library
Closed for renovations
Dorchester Road Library
9 a.m. - 5 p.m.
Village Library
Closed for Renovations
Edgar Allan Poe/Sullivan's Island Library
9 a.m. - 1 p.m.
Edisto Library
9 a.m. - 1 p.m.
Mt. Pleasant Library
9 a.m. – 5 p.m.
McClellanville Library
9 a.m. - 1 p.m.
Folly Beach Library
2nd & 4th Saturdays: 9 a.m. - 2 p.m.
St. Paul's/Hollywood Library
9 a.m. - 5 p.m.
Otranto Road Library
9 a.m. - 5 p.m.
John's Island Library
9 a.m. - 5 p.m.
Hurd/St. Andrews Library
9 a.m. - 5 p.m.
Yom Hashoah: Titles from CCPL's collection to remember the Holocaust
Item request has been placed!
×
Item request cannot be made.
×
Processing Request
CHARLESTON, S.C. - April 8 marks International Holocaust Remembrance Day this year, a day to commemorate the slaughter of millions of people by Nazis in World War II. The date corresponds to the 27th dat of Nisan on the Hebrew calendar, and is the anniversary of the Warsaw Ghetto Uprising. 
This year, CCPL has put together remembrance programs and a book list for Yom Hashoah One of the programs includes a virtual trip to the Jerry and Anita Zuckerman Special Holocaust collection at Main Library. The program features an overview of several books from Children to Adult that contain all forms of resistance to help us remember the Holocaust.
In April's virtual meeting of the Read for Change Book Club, readers will discuss Howard Reich's "The Art of Inventing Hope" about Reich's conversations with Elie Wiesel. The book club meets on Zoom. To reserve a space, click here. Starting April 4, you can register to view  the Atlanta Film Festival Jury Prize winning documentary, "Love It Was Not," a film about a Nazi officer who falls in love with a Jewish concentration camp prisoner, a taboo romance with decades-long repercussions. The pair meet again when she is a witness at the officer's war crimes trial 30 years later. On April 7, Dr. Olga Mintzer and Dr. Sudie Back will guide us as we untangle the themes of trauma and relationships in "Love It Was Not." Register for the movie discussion.
And in May, we will have a conversation with Reich to discuss his book and his years of conversations with Elie Wiesel. 
Yom Hashoah events are co-sponsored by the Charleston Jewish Filmfest, the Charleston Jewish Federation REMEMBER Program, the Yaschik/Arnold Jewish Studies Program, and Charleston County Public Library with funding from the Charleston JCC Foundation and the Stanley Farbstein Endowment.
We've gathered a list of moving nonfiction and fiction books that will enlighten readers about the Holocaust. Check out the list below!
Books 
Maus: A survivor's tale by Art Spiegelman
A brutally moving work of art--widely hailed as the greatest graphic novel ever written-- Maus recounts the chilling experiences of the author's father during the Holocaust, with Jews drawn as wide-eyed mice and Nazis as menacing cats.
Maus is a haunting tale within a tale, weaving the author's account of his tortured relationship with his aging father into an astonishing retelling of one of history's most unspeakable tragedies. It is an unforgettable story of survival and a disarming look at the legacy of trauma.
Discovered in the attic in which she spent the last years of her life, Anne Frank's remarkable diary has become a world classic--a powerful reminder of the horrors of war and an eloquent testament to the human spirit.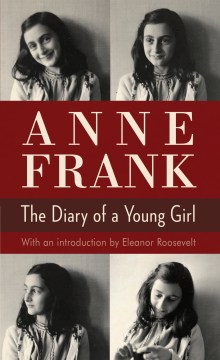 In 1942, with the Nazis occupying Holland, a thirteen-year-old Jewish girl and her family fled their home in Amsterdam and went into hiding. For the next two years, until their whereabouts were betrayed to the Gestapo, the Franks and another family lived cloistered in the "Secret Annexe" of an old office building. Cut off from the outside world, they faced hunger, boredom, the constant cruelties of living in confined quarters, and the ever-present threat of discovery and death. In her diary Anne Frank recorded vivid impressions of her experiences during this period. By turns thoughtful, moving, and surprisingly humorous, her account offers a fascinating commentary on human courage and frailty and a compelling self-portrait of a sensitive and spirited young woman whose promise was tragically cut short.
Cilka's Journey by Heather Morris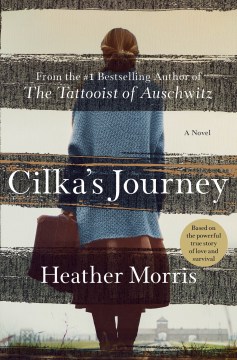 From the author of the multi-million copy bestseller The Tattooist of Auschwitz comes a new novel based on an incredible true story of love and resilience. Her beauty saved her — and condemned her. Cilka is just sixteen years old when she is taken to Auschwitz-Birkenau Concentration Camp in 1942, where the commandant immediately notices how beautiful she is. Forcibly separated from the other women prisoners, Cilka learns quickly that power, even unwillingly taken, equals survival. When the war is over and the camp is liberated, freedom is not granted to Cilka: She is charged as a collaborator for sleeping with the enemy and sent to a Siberian prison camp. But did she really have a choice? And where do the lines of morality lie for Cilka, who was send to Auschwitz when she was stil a child? In Siberia, Cilka faces challenges both new and horribly familiar, including the unwanted attention of the guards. But when she meets a kind female doctor, Cilka is taken under her wing and begins to tend to the ill in the camp, struggling to care for them under brutal conditions.Confronting death and terror daily, Cilka discovers a strength she never knew she had. And when she begins to tentatively form bonds and relationships in this harsh, new reality, Cilka finds that despite everything that has happened to her, there is room in her heart for love.From child to woman, from woman to healer, Cilka's journey illuminates the resilience of the human spirit—and the will we have to survive.
The Tattooist of Auschwitz by Heather Morris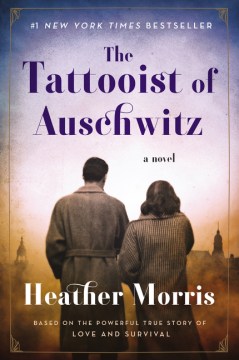 This beautiful, illuminating tale of hope and courage is based on interviews that were conducted with Holocaust survivor and Auschwitz-Birkenau tattooist Ludwig (Lale) Sokolov—an unforgettable love story in the midst of atrocity."The Tattooist of Auschwitz is an extraordinary document, a story about the extremes of human behavior existing side by side: calculated brutality alongside impulsive and selfless acts of love. I find it hard to imagine anyone who would not be drawn in, confronted and moved. I would recommend it unreservedly to anyone, whether they'd read a hundred Holocaust stories or none."—Graeme Simsion, internationally-bestselling author of The Rosie ProjectIn April 1942, Lale Sokolov, a Slovakian Jew, is forcibly transported to the concentration camps at Auschwitz-Birkenau. When his captors discover that he speaks several languages, he is put to work as a Tätowierer (the German word for tattooist), tasked with permanently marking his fellow prisoners.Imprisoned for over two and a half years, Lale witnesses horrific atrocities and barbarism—but also incredible acts of bravery and compassion. Risking his own life, he uses his privileged position to exchange jewels and money from murdered Jews for food to keep his fellow prisoners alive.One day in July 1942, Lale, prisoner 32407, comforts a trembling young woman waiting in line to have the number 34902 tattooed onto her arm. Her name is Gita, and in that first encounter, Lale vows to somehow survive the camp and marry her.A vivid, harrowing, and ultimately hopeful re-creation of Lale Sokolov's experiences as the man who tattooed the arms of thousands of prisoners with what would become one of the most potent symbols of the Holocaust, The Tattooist of Auschwitz is also a testament to the endurance of love and humanity under the darkest possible conditions.
The Librarian of Auschwitz by Antonio Iturbe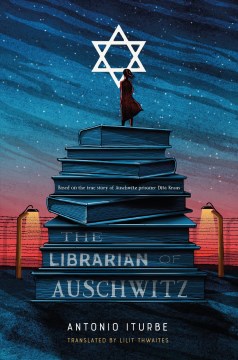 Based on the experience of real-life Auschwitz prisoner Dita Kraus, this is the incredible story of a girl who risked her life to keep the magic of books alive during the Holocaust.
Fourteen-year-old Dita is one of the many imprisoned by the Nazis at Auschwitz. Taken, along with her mother and father, from the Terezín ghetto in Prague, Dita is adjusting to the constant terror that is life in the camp. When Jewish leader Freddy Hirsch asks Dita to take charge of the eight precious volumes the prisoners have managed to sneak past the guards, she agrees. And so Dita becomes the librarian of Auschwitz.
Out of one of the darkest chapters of human history comes this extraordinary story of courage and hope.
A Delayed Life: The True Story of the Librarian of Auschwitz by Dita Kraus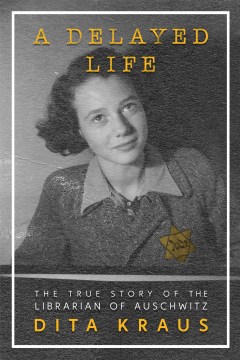 Kraus, whose life inspired the critically acclaimed novel The Librarian of Auschwitz (2017), by Antonio Iturbe, here recalls the true story of her life. It begins slowly with an account of her childhood, but quickly picks up pace with the advent of WWII, when she and her parents are imprisoned as Jews in the concentration camps of Terezín in Auschwitz—where she becomes a librarian as the custodian of a collection of 12 books—and finally Bergen-Belsen, where she and her mother suffer terribly from cold and near starvation. Soon after the liberation of Bergen-Belsen, her mother dies and, still a teenager, Kraus travels alone to her hometown of Prague. Her quotidian life thereafter is not without its interest but is, again, slow-paced. Nevertheless, though she writes of her concern that the language she knows has no words to describe what she feels, her clear, straightforward reportorial style is often moving and affecting, especially her account of life in the camps. Her memoir is a valuable addition to the literature of the Holocaust.
The Girl in the Blue Coat by Monica Hesse
Amsterdam, 1943. Hanneke spends her days procuring and delivering sought-after black market goods to paying customers, her nights hiding the true nature of her work from her concerned parents, and every waking moment mourning her boyfriend, who was killed on the Dutch front lines when the Germans invaded. She likes to think of her illegal work as a small act of rebellion.
On a routine delivery, a client asks Hanneke for help. Expecting to hear that Mrs. Janssen wants meat or kerosene, Hanneke is shocked by the older woman's frantic plea to find a person--a Jewish teenager Mrs. Janssen had been hiding, who has vanished without a trace from a secret room. Hanneke initially wants nothing to do with such dangerous work, but is ultimately drawn into a web of mysteries and stunning revelations that lead her into the heart of the resistance, open her eyes to the horrors of the Nazi war machine, and compel her to take desperate action.
Beautifully written, intricately plotted, and meticulously researched, Girl in the Blue Coat is an extraordinary novel about bravery, grief, and love in impossible times.
Salt to the Sea by Ruta Sepetys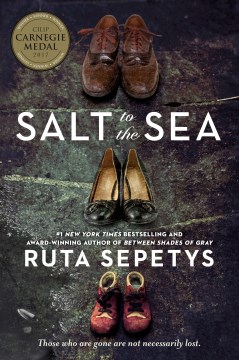 New York Times Bestseller! "Masterly crafted"—The Wall Street JournalFor readers of Between Shades of Gray and All the Light We Cannot See, bestselling author Ruta Sepetys returns to WWII in this epic novel that shines a light on one of the war's most devastating—yet unknown—tragedies.World War II is drawing to a close in East Prussia and thousands of refugees are on a desperate trek toward freedom, many with something to hide. Among them are Joana, Emilia, and Florian, whose paths converge en route to the ship that promises salvation, the Wilhelm Gustloff. Forced by circumstance to unite, the three find their strength, courage, and trust in each other tested with each step closer to safety. Just when it seems freedom is within their grasp, tragedy strikes. Not country, nor culture, nor status matter as all ten thousand people—adults and children alike—aboard must fight for the same thing: survival.Told in alternating points of view and perfect for fans of Anthony Doerr's Pulitzer Prize-winning All the Light We Cannot See, Erik Larson's Dead Wake, and Elizabeth Wein's Printz Honor Book Code Name Verity, this masterful work of historical fiction is inspired by the real-life tragedy that was the sinking of the Wilhelm Gustloff—the greatest maritime disaster in history. As she did in Between Shades of Gray, Ruta Sepetys unearths a shockingly little-known casualty of a gruesome war, and proves that humanity and love can prevail, even in the darkest of hours.Praise for Salt to the Sea:"Jorjeana Marie, Will Damron, Cassandra Morris, and Michael Crouch perform mesmerizing narration worthy of Sepetys's spectacular novel. 
Prisoner B-3087 by Alan Gratz
10 concentration camps. 10 different places where you are starved, tortured, and worked mercilessly. It's something no one could imagine surviving. But it is what Yanek Gruener has to face. As a Jewish boy in 1930s Poland, Yanek is at the mercy of the Nazis who have taken over. Everything he has, and everyone he loves, have been snatched brutally from him. And then Yanek himself is taken prisoner — his arm tattooed with the words PRISONER B-3087. He is forced from one nightmarish concentration camp to another, as World War II rages all around him. He encounters evil he could have never imagined, but also sees surprising glimpses of hope amid the horror. He just barely escapes death, only to confront it again seconds later. Can Yanek make it through the terror without losing his hope, his will — and, most of all, his sense of who he really is inside? Based on an astonishing true story.
The Champion of Children: The Story of Janusz Korczak by Tomek Bogacki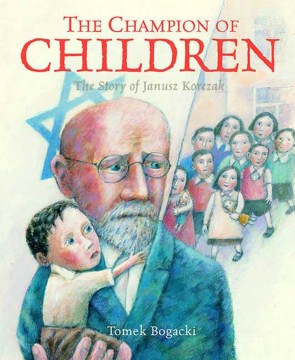 In 1912, a well-known doctor and writer named Janusz Korczak designed an extraordinary orphanage for Jewish children in Warsaw, Poland. Believing that children were capable of governing themselves, he encouraged the orphans to elect a parliament, run a court, and put out their own weekly newspaper. Even when Korczak was forced to move the orphanage into the Warsaw Ghetto after Hitler's rise to power, and couldn't afford to buy food and medicine for his charges, he never lost sight of his ideals. Fully committed to giving his children as much love as possible during a terrifying time, Korczak refused to abandon them. In his most beautiful and heartfelt book to date, Tomek Bogacki tells the story of a courageous man who, during one of the grimmest moments in world history, dedicated his life's work, and ultimately his life itself, to children.
The Cats in Krasinski Square by Karen Hesse
Newbery medalist Karen Hesse tells a harrowing, true story about life in the Warsaw Ghetto during WWII.
When Karen Hesse came upon a short article about cats out-foxing the Gestapo at the train station in Warsaw during WWII, she couldn't get the story out of her mind. The result is this stirring account of a Jewish girl's involvement in the Resistance. At once terrifying and soulful, this fictional account, borne of meticulous research, is a testament to history and to our passionate will to survive, as only Newbery Medalist Karen Hesse can write it.
I Never Saw Another Butterfly: Children's Drawings and Poems from Terezín Concentration Camp, 1942-1944 edited by Hana Volavková
Fifteen thousand children under the age of fifteen passed through the Terezin Concentration Camp. Fewer than 100 survived. In these poems and pictures drawn by the young inmates, we see the daily misery of these uprooted children, as well as their hopes and fears, their courage and optimism. 60 color illustrations.
Films 
Originally broadcast on PBS, The Jewish-Americans covers 350 years in the lives of Jews who have struggled to maintain their religious identity and still be fully accepted as Americans. It is a story at once specific and universal, one that can be appreciated by any ethnic or religious minority who tests whether "democracy, like America, can find room for everyone." Beginning with 23 Jewish exiles seeking safe haven in New Amsterdam in 1654, writer-director David Grubin does an admirable job of charting the often rocky and treacherous course for Jews in this country, and their personal "tug of war between being American and being a Jew." Do they consider themselves Jewish-Americans, or American Jews? Carl Reiner, Mandy Patinkin, Sid Caesar, Jules Feiffer, playwright Tony Kushner, and Supreme Court Justice Ruth Bader Ginsburg are among the more recognizable personalities who offer illuminating commentary and bittersweet reminiscences. But Grubin presents what he calls "an ensemble of voices" rather than "a star-studded parade." Authors, historians, sociologists, academics, and rabbis share a rich personal and cultural history.
Narrated by Liev Schreiber, The Jewish-Americans is comprised of three two-hour episodes, "They Came to Stay," "The Best of Times, the Worst of Times," and "Home." Each is a richly textured tapestry of talking heads, still photos, archival footage, and audio and film clips (the inevitable Gentleman's Agreement), and reveal how Jews have become woven into the fabric of Jewish life. Songwriter Irving Berlin wrote "God Bless America," and the holiday classics "White Christmas" and "Easter Parade." Jerry Siegel and Joe Schuster created Superman. Another crossover pop culture success was Gertrude Berg as Molly Goldberg of the Bronx, offering sage advice and homespun wisdom on radio, television and the movies. One illuminating segment reveals how assimilated movie mogul Louis B. Mayer's Andy Hardy films, with their "fairy tale visions of small town life," were the "American fantasies of a Jewish immigrant." Anti-Semitism rears its ugly head throughout the series. Grubin captures the hysteria surrounding the murder trial of Georgia factory worker Leo Franks, who, in 1915, was falsely convicted in the murder of 13-year-old Mary Phagan, and subsequently lynched by a homicidal mob. The segment that addresses the Holocaust documents America's indifference in dealing with Hitler's "Final Solution." Grubin notes how political activism has long been a part of Jewish-American life, and how Jews took an active role in the Civil Rights struggle. As the old saying goes, you don't have to be Jewish to be compelled and profoundly moved by this ambitious documentary miniseries. But it couldn't hurt.
This is the autobiographical drama of a young Dutch Jewish girl hiding from the invading Nazis during World War II. Anne and her family share a claustrophobic attic with another family. Tension is often unbearable, as the people hiding know that their discovery by the enemy could lead to almost certain death at the hands of their captors. They also must contend with the Dutch Gestapo or "Green Police," who will turn them over to the Nazis if discovered. Dutch nationals risk their lives by hiding the family for two years. The group, despite the horror and crowded conditions, still find time for celebrations of Hanukkah and rejoice quietly in the small attic that has become their world. The story is told from the narrative perspective of Anne, a young girl hoping to live to womanhood. The film was nominated for several academy awards and won two for best supporting actress (Shelley Winters) and for cinematography (William Mellor).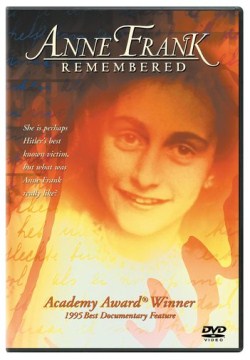 This ground-breaking British documentary offers the most complete biographical account ever compiled of the young Jewish girl whose simple diary entries and observations brought the grim realities of the Holocaust to millions of readers the world over. It not only includes interviews from survivors who knew her, it also looks into never before seen family letters, new photographs and even archival footage. This is all combined with historically accurate recreations of the attic where the refugee Frank family spent two years hiding from the Nazis. Together it all provides a fascinating look into Anna's daily life. At the end, the filmmakers then examine Otto Frank's efforts to preserve his daughter's memory and to keep alive her message of peace.
The Courageous Heart of Irena Sendler
As a social worker, Irena had access to the Warsaw Ghetto, making it possible for her to rescue the daughter of a Jewish friend and safely hide the young girl with a Catholic family. Realizing that thousands of children were still in danger, Irena recruited sympathetic friends and co-workers to smuggle children out and place them in safe homes, farms and convents. At great personal risk, she devised extraordinary schemes to sneak the children by Nazi guards, bringing them out in ambulances, suitcases and even wheelbarrows.
To Auschwitz and Back: The Joe Engle Story
Born in Zakroczym, Poland in 1927, Holocaust survivor Joe Engel was taken by the Nazis at 14 and never saw his parents again. Now 90 years old, Joe is the embodiment of living history and spends his retirement years ensuring the Holocaust is never forgotten. With the assistance of The United States Holocaust Memorial Museum's film and photographic archives, filmmaker Ron Small has successfully weaved Joe Engel's incredible storytelling into a riveting visual presentation that is both historic and contemporary. From the overwhelming despair of the Warsaw Ghetto, to the shroud of unceasing death and suffering that was Birkenau and Auschwitz, to his escape from a Death Train at 17, and his covert work as a freedom fighter, Joe personally takes us on his vivid journey to hell and back. This is a story of faith, renewal, and redemption. Joe Engel, with an unwavering will to live, overcame unimaginable horrors to become a treasured citizen, community leader, teacher, and philanthropist.
To protect Denmark's Jews from the horror of Nazi concentration camps, the Christian Koster family attempts to save their neighbors. Hendrik and his doctor father begin the dangerous task of deceiving the Nazis and hiding Jewish families. When the Koster men must themselves go into hiding, Justin's sister and his mother are left to face capture by the suspicious Gestapo.